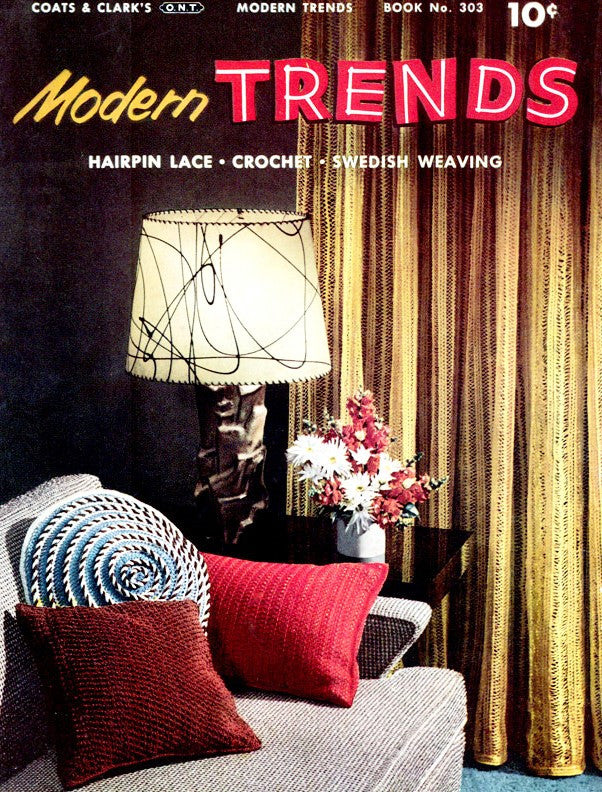 VINTAGE 1950s Mid Century Coats n Clarks Book 303 Crochet Book Modern Trends Hairpin Lace, Crochet and Swedish Weaving
---
Vintage 1954 Coats and Clark's crochet patterns book #303, "Modern Trends Hairpin Lace, Crochet, Swedish Weaving".

Teaches the basics of Hairpin Lace, and Swedish Weaving and use your new skills, along with Crochet Skills, to create unique and trendy mid century home decor and accessories.

PATTERNS : Hairpin Lace Draperies, Oblong Pillow, Round Pillow, Hairpin Lace Chair Set, Bottle Cap Placemat and Hot Plate Set, Pineapple Mat, Hairpin Lace Cafe Curtains, Checkered Motif Place Mat, Lover's Knot Lamp Shade, Hairpin Lace Lamp Shade, Motif Lamp Shade Cover and more.

MEASUREMENTS:
15 pages between the covers.
Book measures 7 1/2 inches by x 10 1/2 inches

CONDITION: In very nice vintage condition.
---
Share this Product
---
More from this collection